Transparent Flexible LED Film Display Screen for Glass Window

Pixel Pitch: 4mm, 6.25mm, 8mm,10mm, 15mm, 20mm
LED Screen Size: 800x240mm
LED Screen Size: 1000x240mm

Transparent LED Film Display Screen LED crystal film screen adopts LED lamp beads and driver IC, transparent PCB is manufactured as substrate, and SMT process is used to produce and manufacture, the product is light, thin and high permeability. The size can be customized according to the installation site, the installation is simple, and it is directly attached to the back of the glass.

LED film screen product structure:
The aluminum shell box has a power supply and receiving card, transparent PCB board, LED lamp beads, and connects each screen through the power interface and signal interface. The circuit board adopts grid design and has high permeability.

LED crystal film screen has high light transmittance:
The light transmittance can reach up to 95%, which does not cater to daylighting, and the display has a 3D effect when playing video.
LED film screen size can be customized:
The maximum length can be up to 3 meters, and the length is not limited. The screen can be curved and cropped to suit your installation occasion.

Light weight and ultra-thin:
ONE SQUARE METER WEIGHT ≤ 3KG, THICKNESS ≤ 3MM, EASY TO TRANSPORT AND INSTALL.

95% High transparency
the base material is high-temperature resistant PET film, when the screen stops working, The screen is almost invisible and completely integrated into the glass.
Customizable & Versatile
The modular design of the film enables custom shapes and sizes, opening up a world of possibilities for unique installations across various industries, from retail to hospitality and events.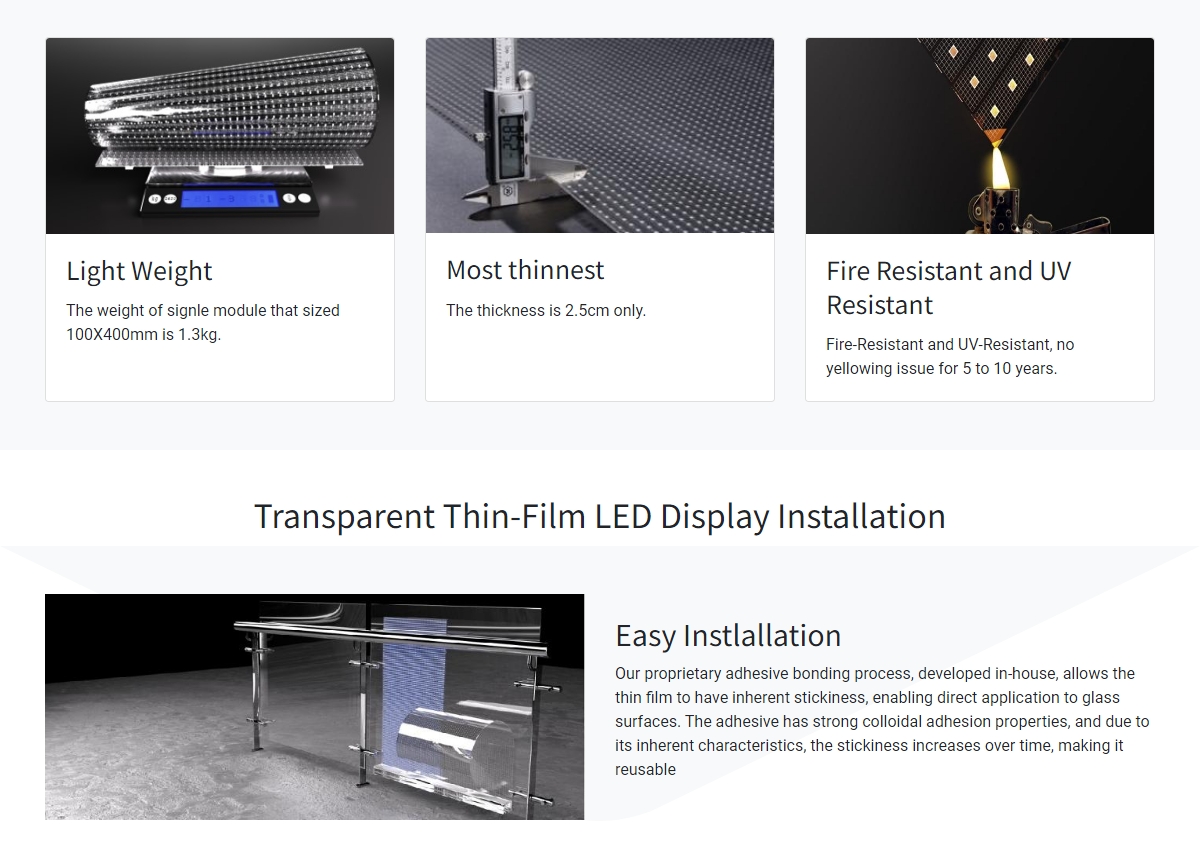 Seamless Integration
No visible structural skeleton or keel on the back of transparent led screen, real and completely transparent.
Most Flexibility
can be bent or cut, best solution for curved or special-shaped glass wall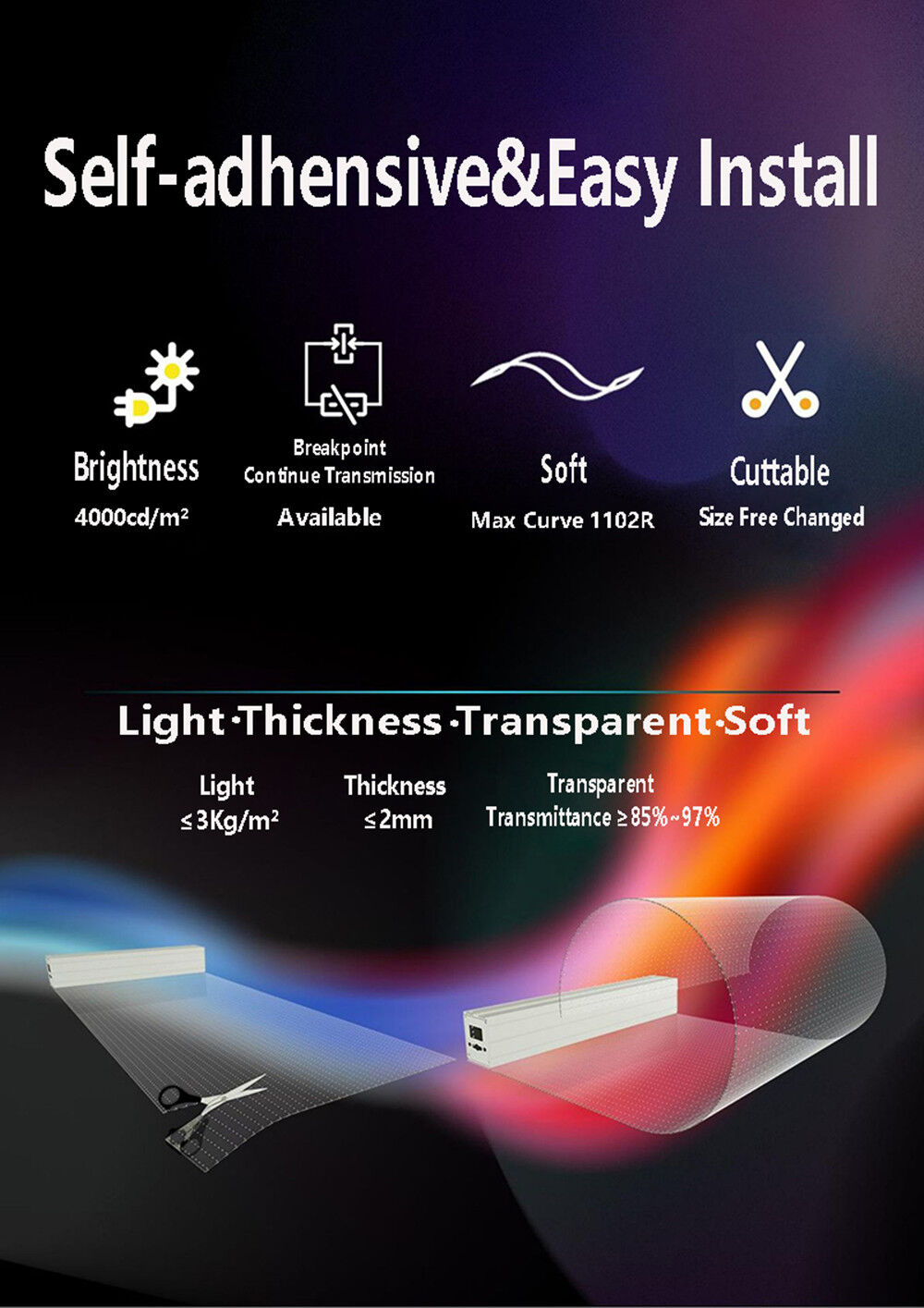 Superior scalability
can be customized and combined and spliced according to the demand, which has very great flexibility in display effect.
High-Resolution Visuals
Despite its transparency, the film delivers stunning, high-resolution visuals that captivate audiences, creating unforgettable experiences for customers and clients.
Ultra-high transparency
80%-90% transparency when applied directly onto the glass surface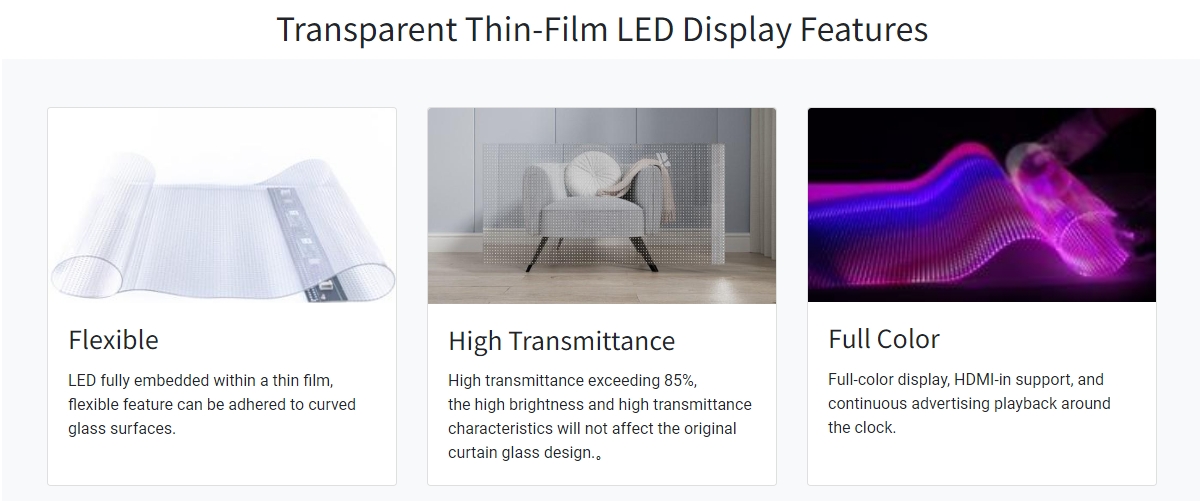 Perfect performance
Transparent LED Film Displays are bright and eye-catching, making them perfect for attracting attention and conveying important information.
Easy Installation
Transparent led film displays are incredibly easy to install. Simply peel off the adhesive backing and stick it to any surface.

LEEMAN LED Transparent Flexible LED Film Display is a type of display that can be easily attached to any surface using a strong adhesive. It is an innovative solution that provides a unique way to showcase information or graphics in a dynamic and eye-catching way.